Waltham's Introduction of the Extra Thin Colonial Series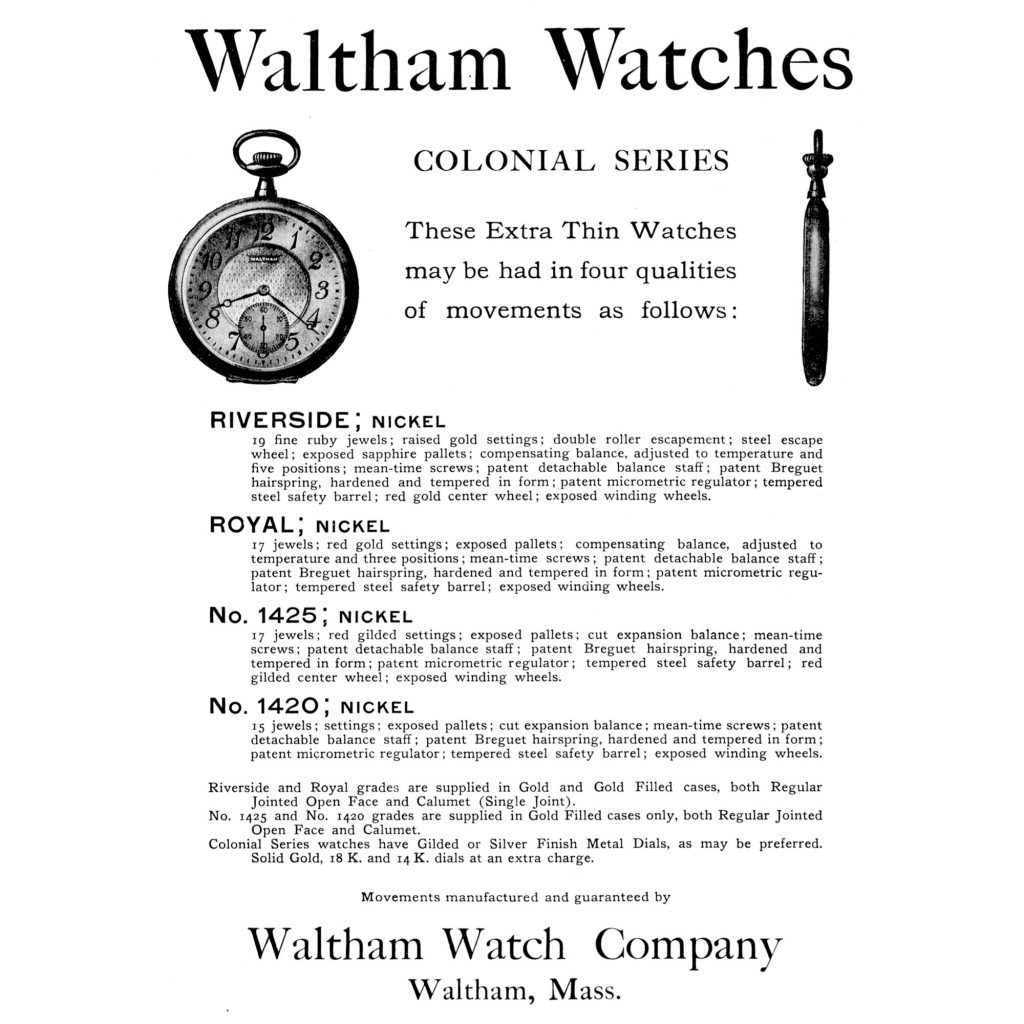 ---
The trend of thin watches in America was spurred around 1904 with the introduction of "extra thin" imported watches from Europe, advertised as "The Latest Novelty From Paris" and measuring only ⅛" thick. Soon, even the smallest American watches appeared bulky in comparison to the sleek wafer-like watches being delivered from foreign companies.
In 1907, the American Waltham Watch Company introduced their line of extra thin "Colonial Series" watches in four distinct grades.
The Riverside featured 19 ruby jewels in raised gold settings and was adjusted to temperature and five positions. The Royal featured 17 jewels in red gold settings and was adjusted to temperature and three positions. The No. 1425 featured 17 jewels in red gilded settings and was unadjusted. Rounding out the bottom of the product line was the No. 1420, featuring 15 jewels.
These watches were delivered from the factory as complete watches and represent the first full product line in the United States to feature metal dials instead of conventional enamel, offered in gilded, silvered, or solid gold.
The metal dials allowed the watch to be produced in an extra thin profile. This also required the movements to be fitted in special cases, originally available in solid gold and gold-filled for the Riverside and Royal grades, and gold-filled for the No. 1425 and No. 1420.
Soon, all the major watch factories in the United States introduced similar watches in an attempt to join the "thin watch" trend, leading a key transition to factory-cased watches.
Followup – After this article was posted, a previous attempt by Waltham to market a thin watch was brought to my attention by Jerry Trieman. Around 1902, Waltham produced a watch featuring their 10-Size Model 1900 movement enclosed within an enlargement ring, designated in serial lists as Grade No. 1015. This watch was manufactured in a single run of 4,000 before being discontinued. Jerry's analysis is wonderfully detailed within a 2013 NAWCC Message Board thread.