Ferguson Dial: Decoding the Swiss Style Codes Marked on Reverse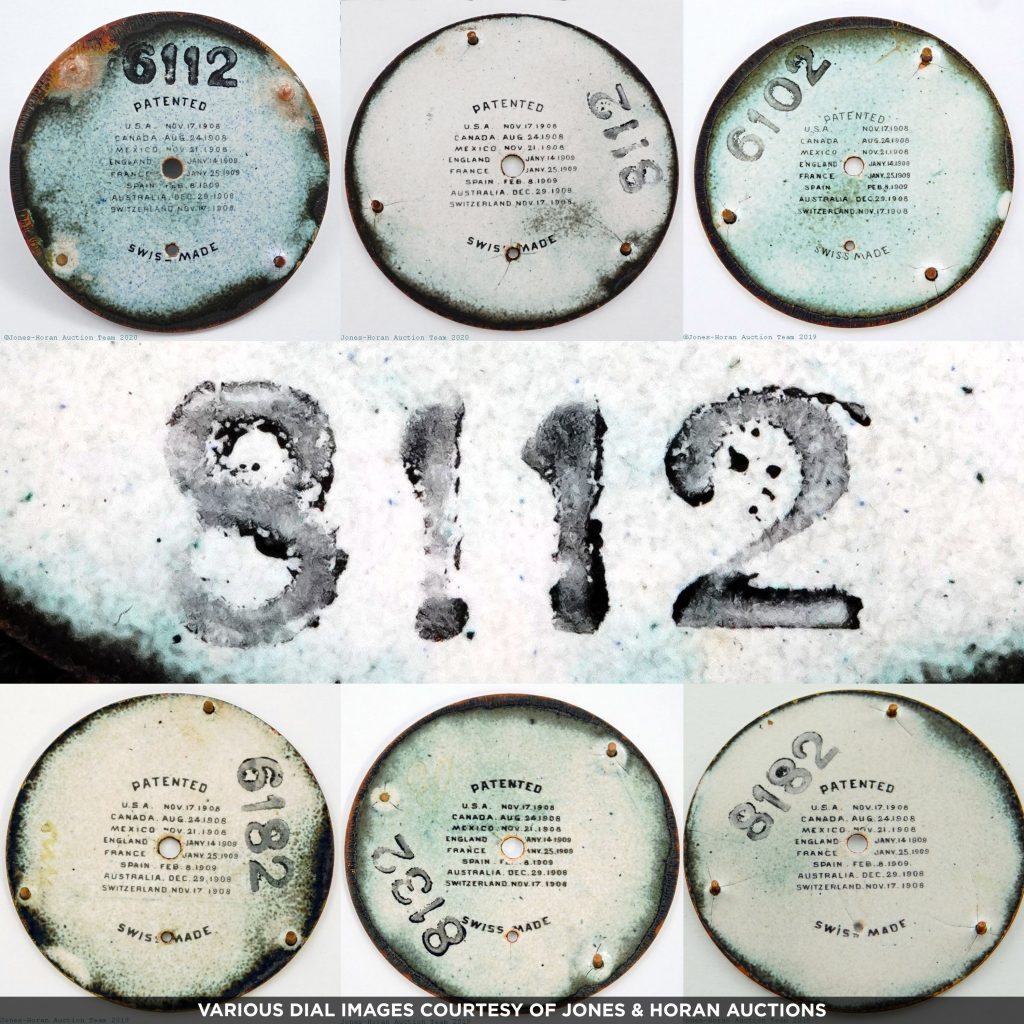 ---
Shortly after the Ferguson Dial Company was organized by Louis Buck Ferguson, dials were imported in larger batches from an unidentified company in Switzerland.
The back of each dial was marked with the patents issued in various countries and stamped with a large four-digit number to signify the style code.
While most dials were produced in 18-Size and 16-Size, dials were also available for 12-Size movements. The first two digits of the style code indicate the dial size:
81: 18-Size
61: 16-Size
21: 12-Size
With the notable exception of the 12s Hampden dial, the third digit of the stye code appears to represent the manufacturer:
0: Elgin
1: Hamilton
2: Hampden
3: Howard (E. Howard and Keystone Howard)
4: Illinois
5: ?
6: Rockford
7: South Bend
8: Waltham
The last digit of the style code appears to be associated with the model of movement for which the dial was designed and is typically stamped as 0, 2 (most common), or 3.
---
The following is an incomplete list of known style codes associated with each manufacturer:
Elgin:
18s Full Plate – 8100
18s "Veritas Model" – 8102
16s – 6102
Hamilton:
18s – 8112
16s – 6112
Hampden
18s – 8123
16s – ?
12s – 2112
Howard (Keystone):
16s – 6130
E. Howard:
18s – 8132
16s – 6132
Illinois:
18s – 8142
16s – 6143
12s – ?
Rockford:
18s – 8162
16s – 6162
Waltham:
18s Model 1892 – 8182
18s Model 1883 – 8180
16s – 6182
---
Further research is required to compile a comprehensive list of Ferguson Dial Swiss style codes. If you have a dial that fills in missing information or is in conflict with the above list, please reach out.
---
Various examples of the Swiss Ferguson Dials have been posted in the research thead here.