Private Label Trade Names on American Pocket Watches: The Non-Magnetic Watch Company: Part 20: The Non-Magnetic Watch Company of America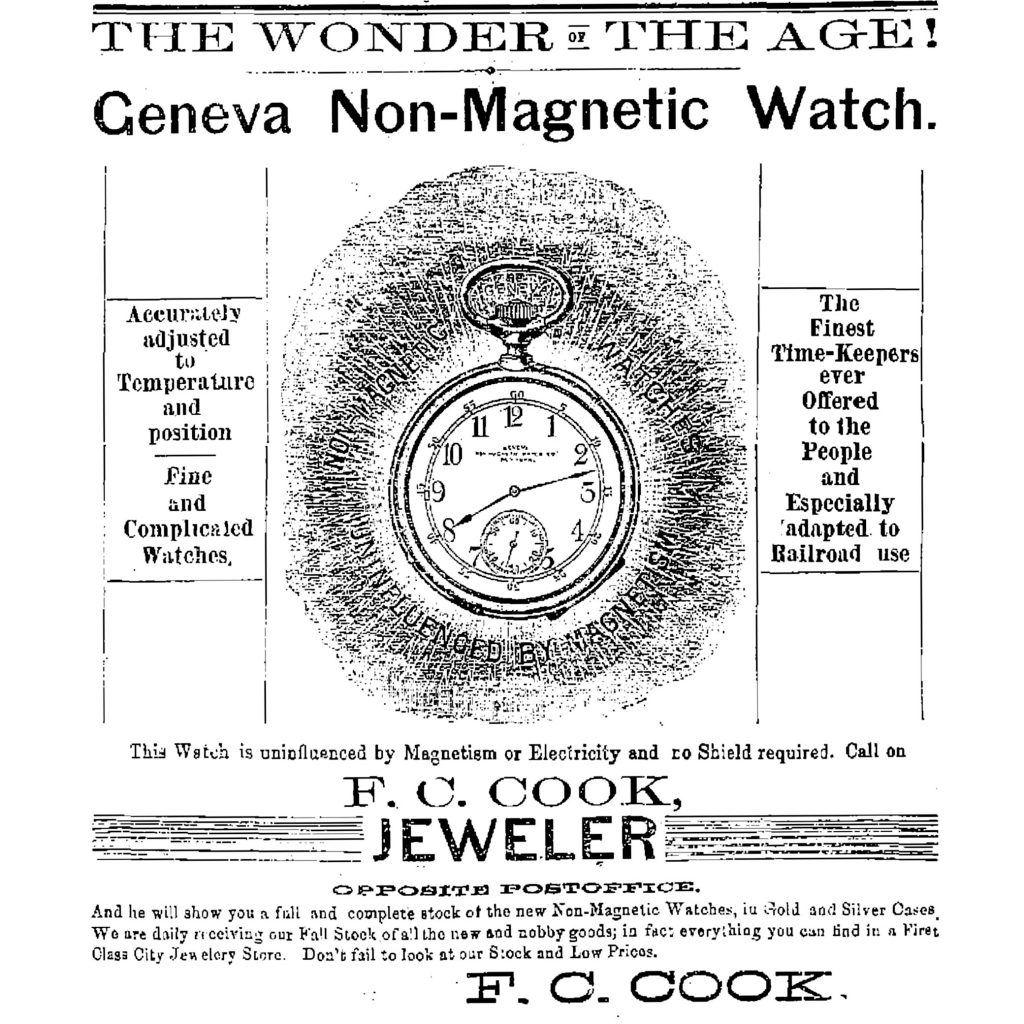 ---
The early evolution of the Non-Magnetic Watch Company became more chaotic as Alfred C. Smith was added to the mix in 1887. The company struggled to find a suitable strategy to optimize manufacturing, assembly, and marketing while maintaining quality standards.
In February 1887, the first advertisements for the Geneva Non-Magnetic Watch Company began to appear in the United States. Charles Willis Ward leveraged his local connections in Detroit to jumpstart marketing efforts as Wright, Kay & Co. was established as one of the company's first sales agents in America. 
In the February 3, 1887 edition of the Detroit Free Press, a large front-page advertisement read "The Non-Magnetic Watch!! What Is It?," spurring public interest in the new watch. Other advertisements featured  headlines such as "The Watch of the Future" and "The Wonder of the Age!"
As the Geneva Non-Magnetic Watch Company began to gain momentum in the United States, the company leadership contemplated a revised strategy for the American market.
In July 1887, Charles Willis Ward proposed a plan to Smith that would delegate the production of finer watches to the Geneva Non-Magnetic Watch Company and create a new company to manage the marketing of less expensive watches in the United States.
In January 1888, the Non-Magnetic Company of America was organized with a capital stock of $50,000. Alfred C. Smith was appointed as the company's secretary and business manager.
Increasing public demand for non-magnetic watches was the primary objective during this period. It was decided that whether watches were sold by the Geneva company or the American company, the critical feature was "Paillard's Patents" being prominently marked on the movement plates.
The plan worked, and public interest began to grow. Unfortunately, the leadership at Waltham had also noticed this inevitable trend and introduced their own non-magnetic watch in December 1887 to compete with The Non-Magnetic Watch Company.