Private Label Trade Names on American Pocket Watches: The Non-Magnetic Watch Company: Part 7: Paillard's Patents: Palladium Hairspring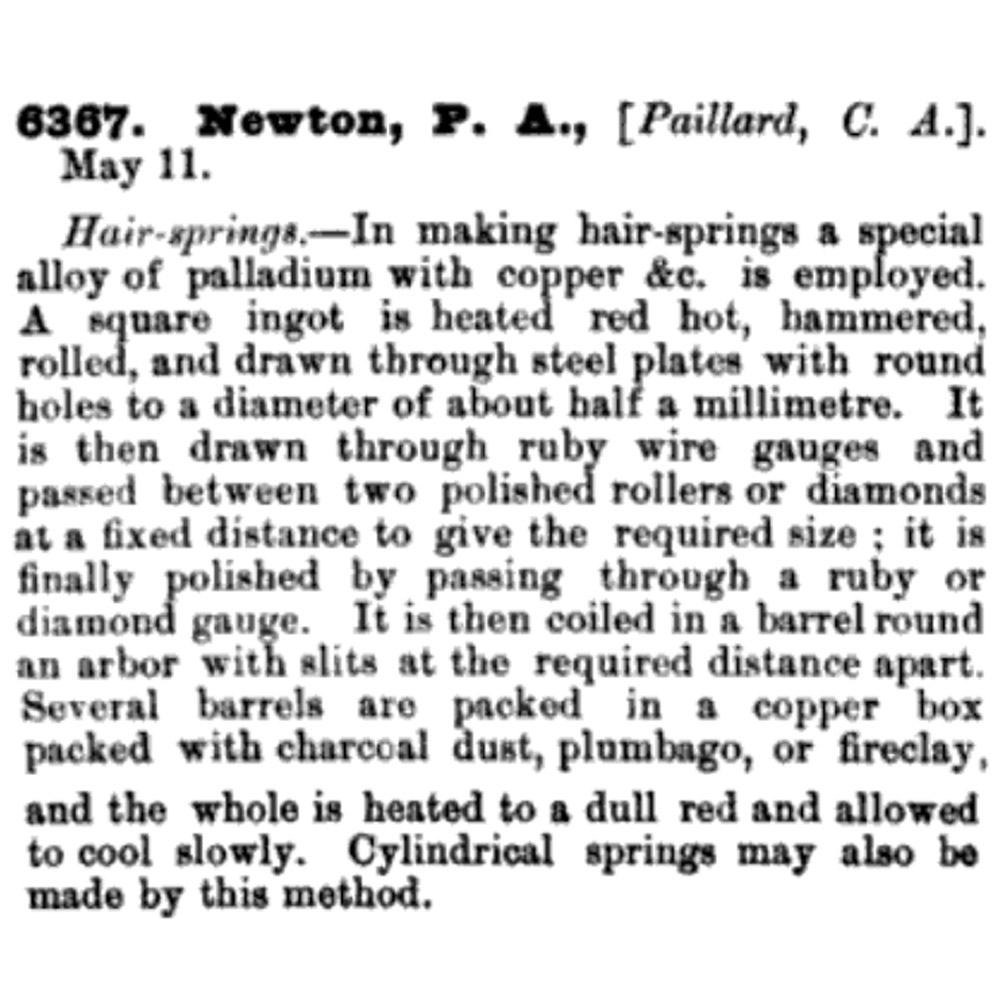 ---
In the late 1870s, after a decade of experimentation, Charles-Auguste Paillard successfully developed a palladium alloy that was immune to corrosion, featured elasticity similar to steel, and did not significantly expand or contract when introduced to temperature changes.
Paillard immediately began implementing his new palladium alloy hairspring on fine marine chronometers. Once the adoption of electricity made the non-magnetic properties of the alloy more desirable, Paillard explored the potential for broader commercialization. In 1885, Charles Willis Ward partnered with Paillard to manufacture standard watch movements featuring the palladium alloy.
Unfortunately, Switzerland did not maintain patent laws to protect intellectual property at the time. However, this did not deter Paillard from seeking patents in England, France, and Germany.
In May 1886, Paillard applied for his first patent in England for his process in creating hairsprings from palladium alloy, described as:
"Hair-springs. – In making hair-springs a special alloy of palladium with copper &c. is employed. A square ingot is heated red hot, hammered, rolled, and drawn through steel plates with round holes to a diameter of about half a millimetre. It is then drawn through ruby wire gauges and passed between two polished rollers or diamonds at a fixed distance to give the required size; it is finally polished by passing through a ruby or diamond gauge. It is then coiled in a barrel round an arbor with slits at the required distance apart. Several barrels are packed in a copper box packed with charcoal dust, plumbago, or fireclay, and the whole is heated to a dull red and allowed to cool slowly. Cylindrical springs may also be made by this method." England Patent #6367
Subsequently, patents were also granted in France (Patent #176053) and Germany (Patent #38445).