Private Label Trade Names on American Pocket Watches: The Non-Magnetic Watch Company: Part 6: Introduction of Paillard's Palladium Hairspring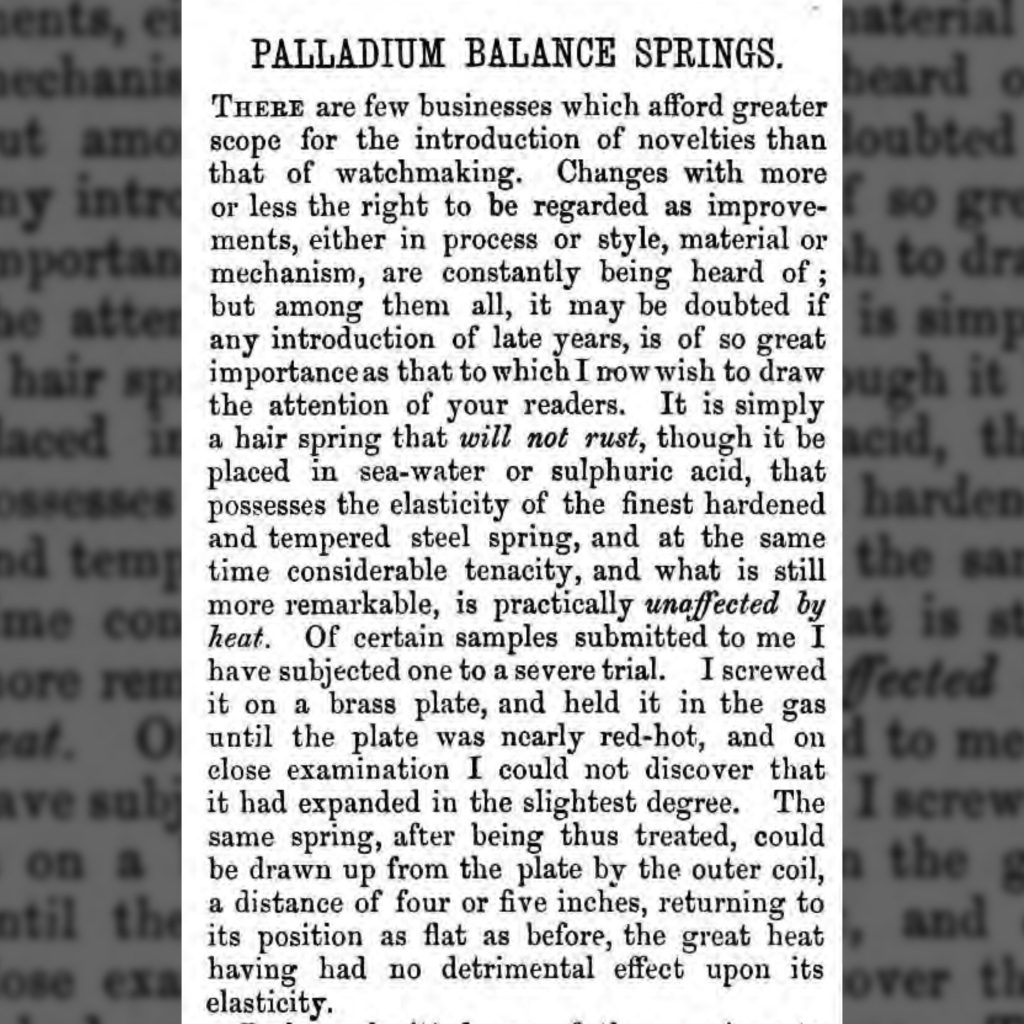 ---
When Charles-Auguste Paillard moved to Geneva in 1862, he dedicated his research to developing a corrosion-immune alloy for hairsprings used in marine chronometers. 
Creating an alloy that also behaved similarly to a standard steel hairspring was a monumental challenge. The new alloy needed to be highly ductile, maintain permanent form, and feature elasticity similar to tempered steel while preventing oxidation.
Paillard experimented thoroughly with palladium, a silvery paramagnetic element discovered by chemist William Hyde Wollaston in 1803.
Meticulous mixtures were tested using palladium alloyed with copper, gold, silver, platinum, iron, and steel.
In the July 1879 issue of The Horological Journal, James Haswell introduced the palladium hairsprings to the trade, referencing Mr. Paillard's recent developments. Haswell proclaimed the importance of the new palladium balance springs, stating, "it is simply a hair spring that will not rust" and that it is "practically unaffected by heat."
After scrutinizing the new palladium hairsprings, the writer concluded that they were far superior to steel hairsprings, especially for marine chronometers, and more resilient under temperature differences than steel hairsprings.
The importance of this development was recognized by the trade in the United States as well, and The Jewelers' Circular and Horology Review republished the article introducing the new palladium alloy hairsprings.
Despite resistance to corrosion being the primary benefit describing the new material, its anti-magnetic properties will eventually drive the commercial success of Paillard's palladium alloy.