Private Label Trade Names on American Pocket Watches: The Non-Magnetic Watch Company: Part 8: Paillard's Patents: Palladium Balance Wheel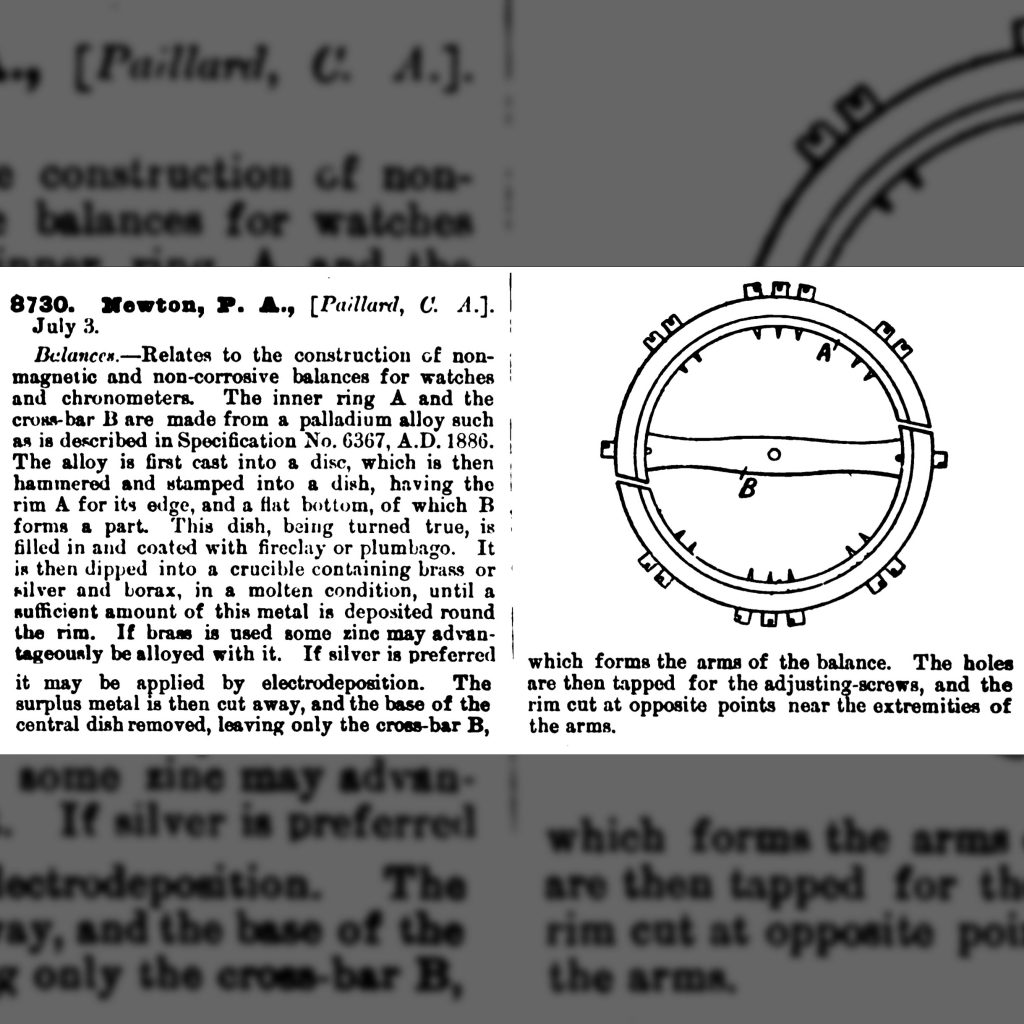 ---
While the most delicate part of a watch to be significantly affected by magnetism and corrosion is the hairspring, the balance wheel can also cause erratic timekeeping when plagued by similar afflictions.
Recognizing this, Paillard followed his patented palladium alloy hairspring with a compensation balance wheel manufactured using a non-magnetic and non-corrosive palladium alloy. British Patent #8730 for the balance wheel was issued in July 1886 to P.A. Newton and C.A. Paillard.
The patent abstract conveys the manufacturing process to produce the innovative balance wheel from palladium alloy, referencing Paillard's patented hairspring.
"Balances. – Relates to the construction of non-magnetic and non-corrosive balances for watches and chronometers. The inner ring A and the cross-bar B are made from a palladium alloy such as is described in Specification No. 6367, A.D. 1886. The alloy is first cast into a disc, which is then hammered and stamped into a dish, being turned true, is filled in and coated with fireclay or plumbago. It is then dipped into a crucible containing brass or silver and borax, in a molten condition, until a sufficient amount of this metal is deposited round the rim. If brass is used some zinc may advantageously be alloyed with it. If silver is preferred it may be applied by electrodeposition. The surplus metal is then cut away, and the base of the central dish removed, leaving only the cross-bar B, which forms the arms of the balance. The holes are then tapped for the adjusting-screws, and the rim cut at opposite points near the extremities of the arms."Abstract of British Patent #8730
Paillard's patented palladium hairspring and balance would form the foundation for the Non-Magnetic Watch Company.