Private Label Trade Names on American Pocket Watches: "Burlington Watch Co." Part 61: Burlington Dial Options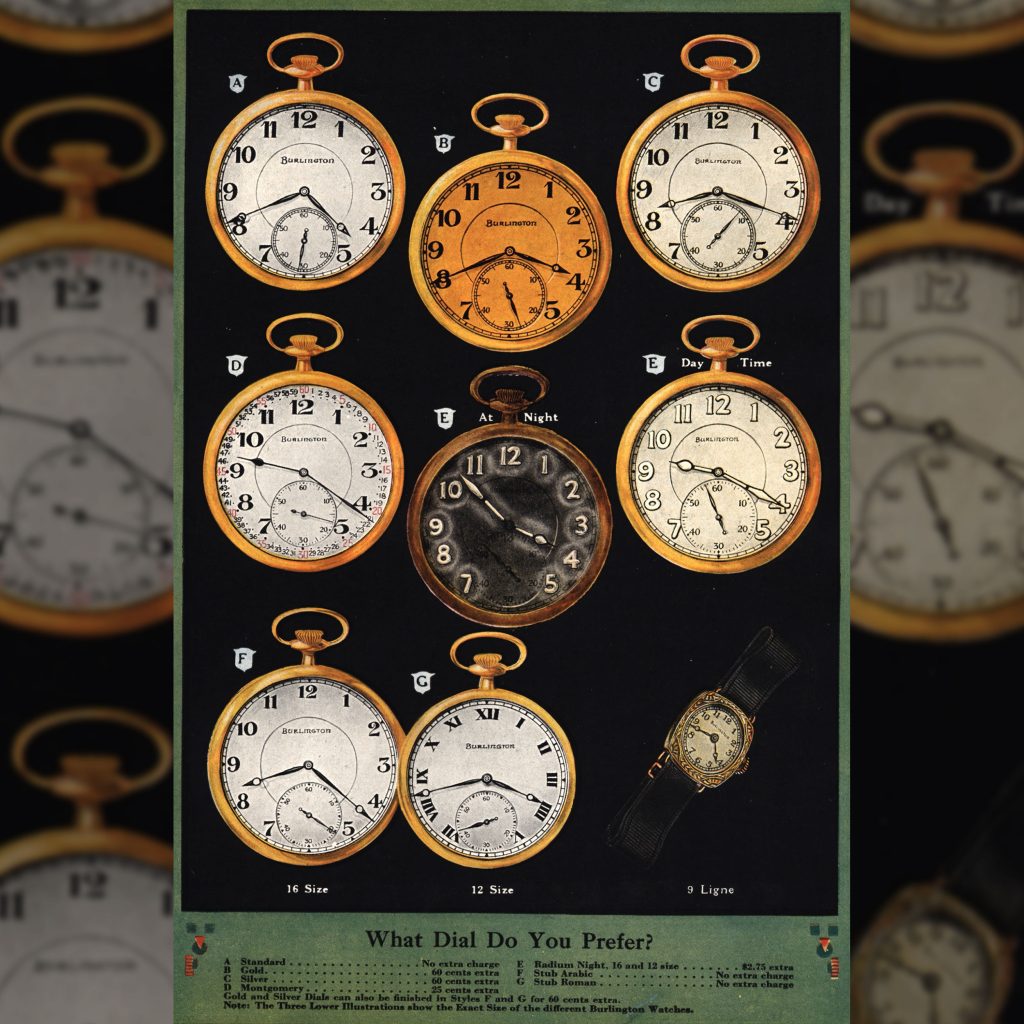 ---
By the early 1920s, the dial designs offered by the Burlington Watch Company had expanded immensely. Instead of three standard styles, customers had the opportunity to select from seven options when purchasing a 16-Size Burlington watch.
Standard
Gold ($0.60 Extra)
Silver ($0.60 Extra)
Montgomery ($0.25 Extra)
Radium Night ($2.75 Extra – 12-Size and 16-Size)
Stub Arabic
Stub Roman
The radium dial is a notable addition to the Burlington line. Radium, now recognized as a dangerous radioactive element, was painted on the hour numerals and hands for an illuminating effect in low light. The c.1923 Burlington Watch Catalog describes the new dial:
"Just one word about the quality of the radium used in these dials. The producers had this high quality radium that we use, under observation now, for several years. It is so active, that not the least deterioration can be noticed in that time. There is as much difference between this high grade radium dial and the ordinary radium dial, as there is between a fine diamond and a piece of glass. We find it most practical to apply the radium to our silver metal dials, so are furnishing them in that way exclusively."c.1923 Burlington Watch Catalog
The use of radium on watch dials was scrutinized when several "Radium Girls" died from radiation poisoning after painting self-luminous dials at the Radium Dial Company. The women had been instructed to create a fine tip by touching the brushes to their lips, unknowingly ingesting deadly amounts of radium.