Manistee Watch Company Movements: "Guaranteed by the Factory From Original Defect"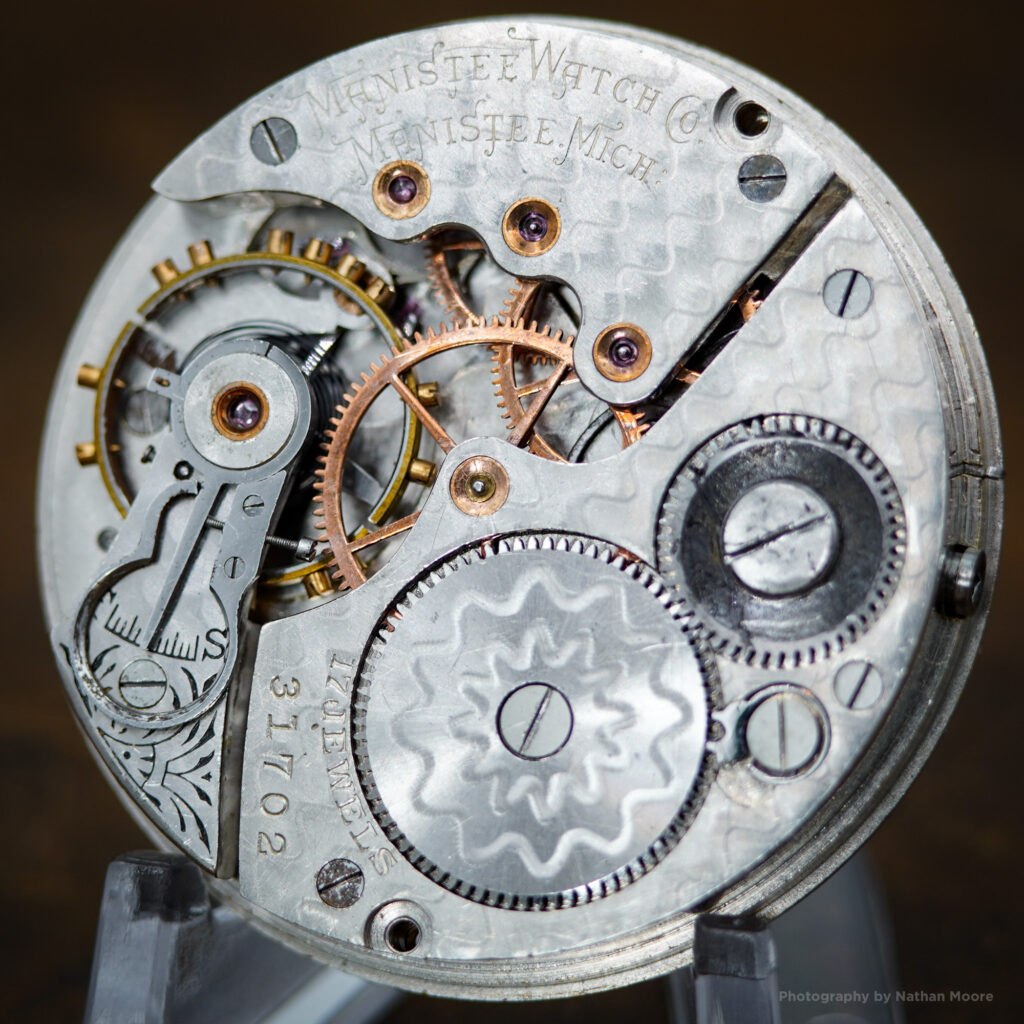 ---
Several recent articles have covered the history and production of the short-lived Manistee Watch Company based in Manistee, Michigan. The mysteries related to the odd production may never be truly satisfied, including why nearly 80% of the 18-Size movements were mutilated with cutout plates to obscure the manufacturer's identity.
A common conclusion is that there were significant issues with quality control that forced the company to distance itself from some of the flawed movements produced at the factory – and possibly liquidated them at a discount.
---

---
A newly-discovered excerpt from the 1912 Norris, Alister & Co. catalog suggests the damaged reputation may have continued to haunt the company even after introducing a new 16-Size model to the market.
The catalog described the 16-Size Manistee watch as:
"Nickel, Thin Model, 3/4 plate, well finished 17 Jewel movement. Very attractive in appearance, double sunk, Arabic or Roman dial with marginal figure, exposed pallets, compensating balance wheel, Breguet hair spring, polished micrometric regulator, double roller escapement, with steel escape wheel, exposed winding wheels."
The Manistee movement was listed in both open-face and hunting configurations for $11.70.
---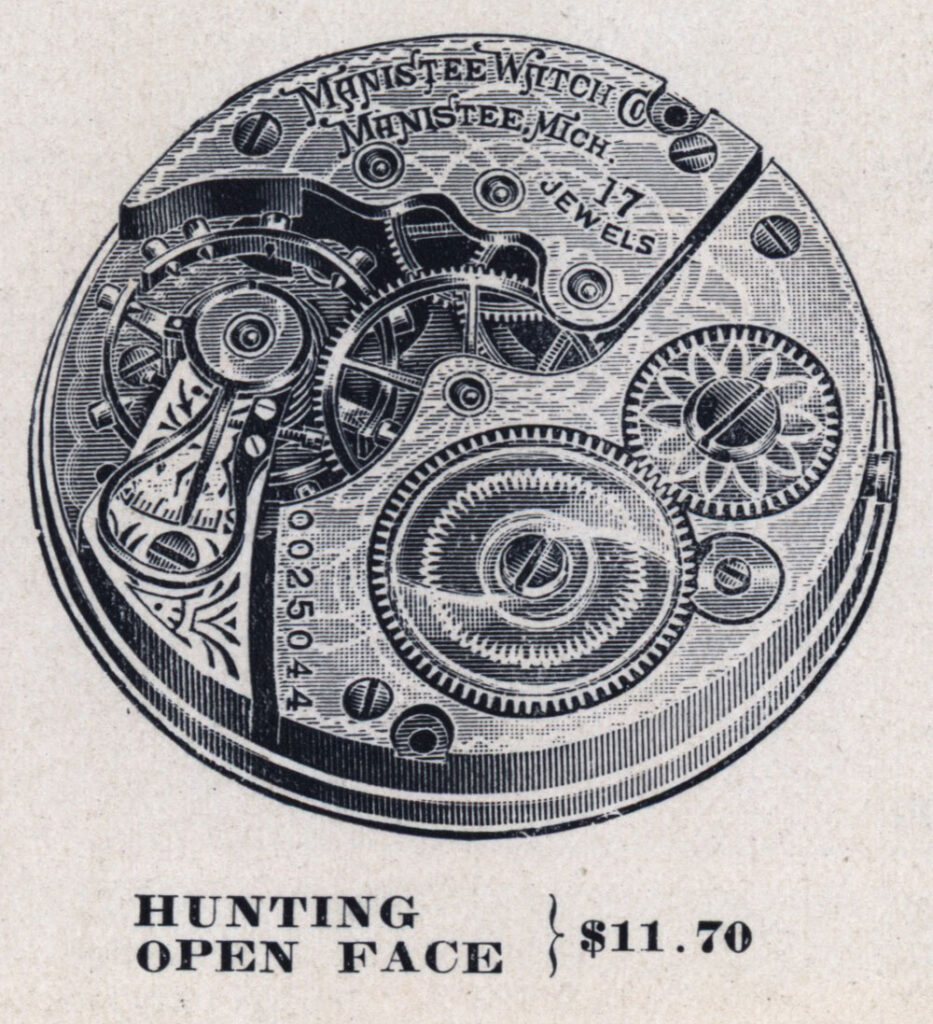 ---
Adjacent to an illustrative cut of the Manistee movement is an odd guarantee from the company.
"Guarantee. All Manistee Movements are guaranteed by the factory from original defect. Material parts furnished free of charge upon request. Report all requests for material and complaints of imperfect watches direct to the general offices, Masonic Temple, Chicago, Illinois."
---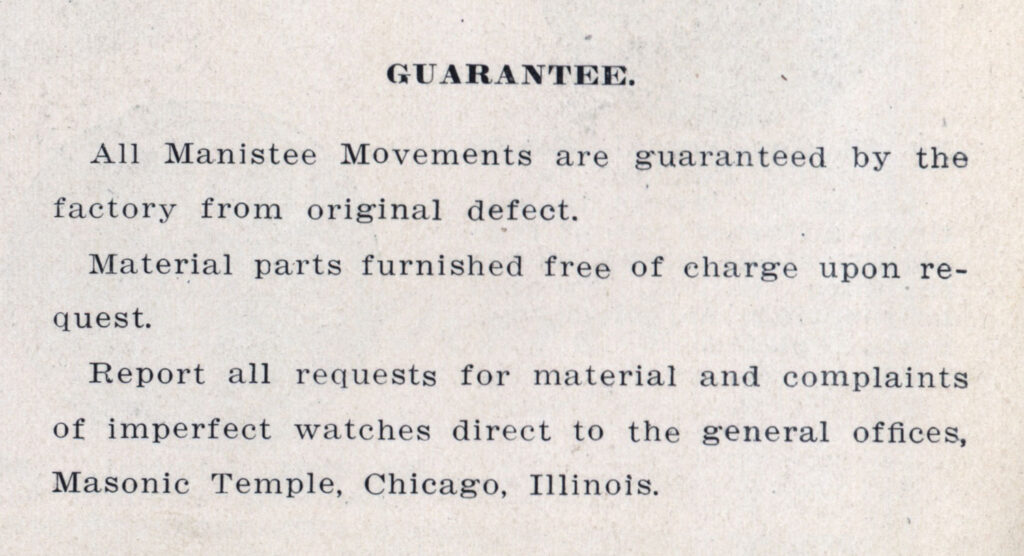 ---
Nearly all American watch companies offered guarantees against defects during this era. However, it is highly unusual (and rather suspect) for a guarantee to be promoted in such a prominent location – almost to the point of "over-assuring" potential customers. Manistee even offered parts free of charge upon request, attempting to remove all objections to a possible purchase.
While this catalog was being distributed in 1912, the Manistee Watch Company was on its last leg, ultimately failing by the end of the year.