"Almost a Sangamo Special" – Illinois Watch Company, Serial Number 2541201
Guest Post By: Richard Thomas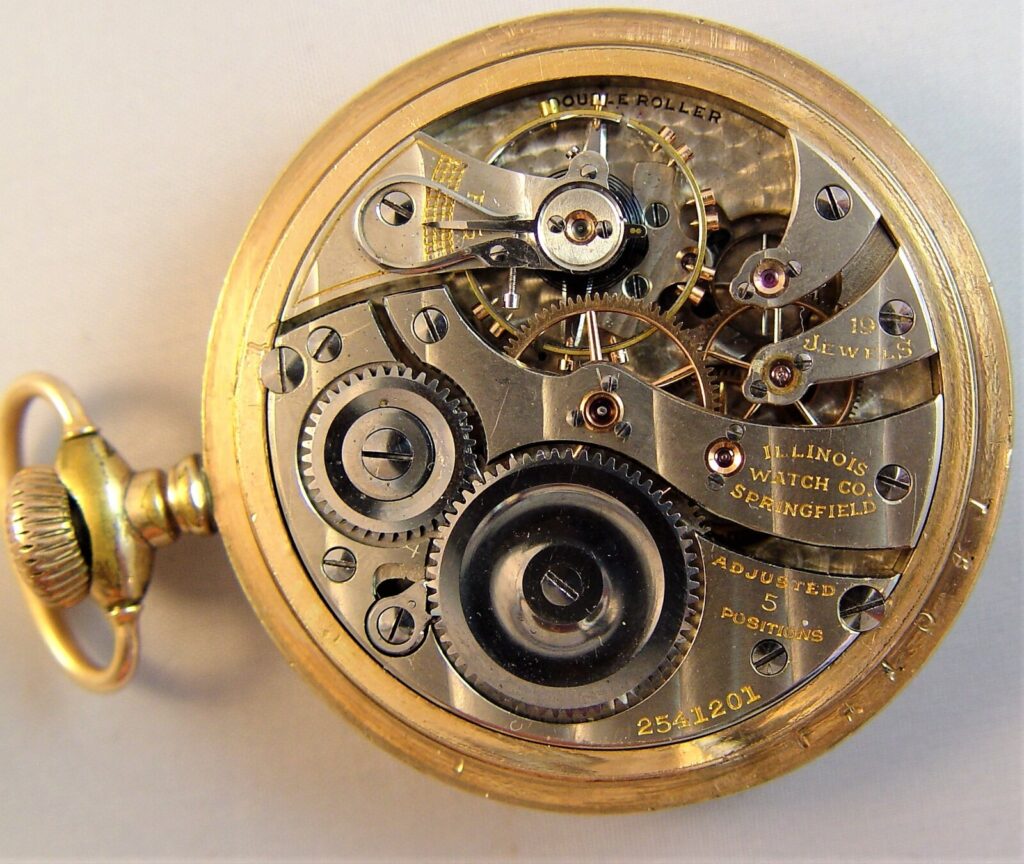 ---

Beginning in 1911 and continuing through 1914, the Illinois Watch Co. introduced their new 16s, Model 9, Nickel Bridge movement.
| | | | | |
| --- | --- | --- | --- | --- |
| Year Introduced | First Serial No. | Grade | Jewels | Adjusted |
| 1911 | 2337031 | 710 | 23 | T, I, 6 Positions |
| 1913 | 2526001 | 705 | 17 | T |
| 1913 | 2526401 | 706 | 19 | T, I, 3Positions |
| 1913 | 2541331 | Sangamo Special | 21 | T, I, 6 Positions |
T = Temperature; I = Isochronism
---
According to the "Illinois Watch Co. Encyclopedia & Price Guide, Vol. 2" by Meggers and Ehrhardt, ©2010 and the "Illinois Watch Co. Database Project" on CD, ©2008, s/n 2541201is described as:

"a 16s, 19j, model 9, lever set, open face, grade 706, adjusted to temperature, isochronism and 3 positions (19J-ON9L-T3PI), double roller, jewels in raised settings, rounded spoke train wheels, polished gold top center wheel, patent regulator (flat regulator arm), narrow stripe band damascened nickel, black- or red-filled engraving, gilded oval headed plate screws."
However, s/n 2541201 clearly is not a grade 706, but rather something of a much higher quality – approaching that of the yet to be introduced Sangamo Special. Refer to Figure 1. No grade 706 movement has ever been documented as being adjusted to 5 positions.
Table 1 compares s/n 2541201 (Figure 1) to s/n's 2541331 & 2541342 (Figure 2); i.e. the 1st & 11th Sangamo Special movements produced.
---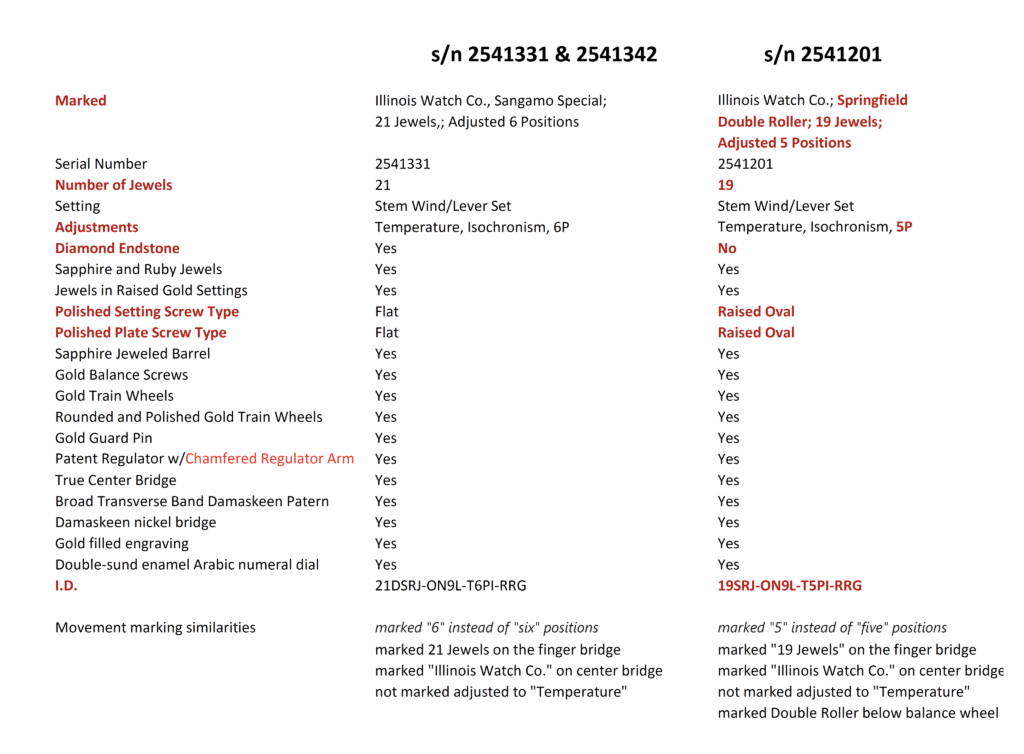 ---
Serial Number 2541201:
is definitely a part of a production run since it has both a serial number and that serial number is also present on the underside of the plates, balance cock, and balance
is not a prototype since prototype movements typically do not have serial numbers and are not part of a production run.
definitely does not fit the standard grade 706 classification
is very "comparable" in quality to the yet to be introduced Sangamo Special grade
is not the total and true equal of a Sangamo Special – but is very close. (Refer to Table 1.)
has the same true bridge plates, wide traverse band damascene pattern, and most other characteristics of a Sangamo Special
is lacking a faceted diamond end stone (typical of many early, but not all, early Sangamo Specials)
---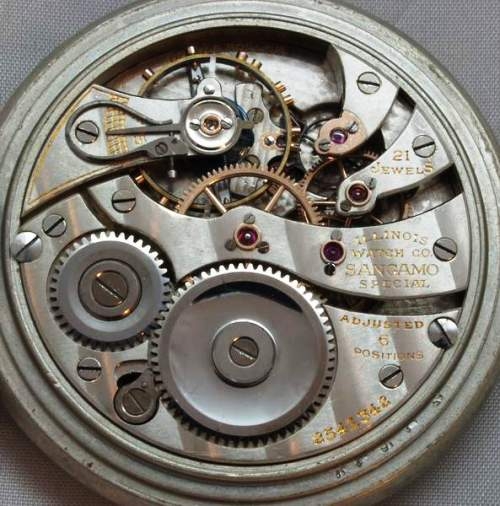 ---
has sapphire end and pallet stones (sapphire being a little harder than ruby but not as hard as diamond)
is adjusted to 5 positions.
(Note: with the exception of a very few early hunter Sangamo Specials that were adjusted to 5 positions, all other Sangamo Specials were adjusted to 6 positions.)
does have a rounded and polished gold gear train, gold jewel settings, and gold balance screws
does not have the polished flat head jewel screws used on the Sangamo Special but instead has polished oval or rounded jewel screws
does not have the polished flat head plate screws used on the Sangamo Special but instead has polished oval or rounded plate screws
damascene pattern is consistent with the yet to be introduced Sangamo Special – introduced 130 movements after s/n2541201
is from the beginning of the 16-Size Model 9 bridge movement production and possibly represents some testing/experimenting at the factory in preparation for the Sangamo Special that was to go into production shortly thereafter

perhaps to verify that the damascening pattern and finishing techniques were selected properly

perhaps a test batch before running the actual Sangamo Special runs

was a special order private label as evidenced by the "Dingwall" name on the dial
The dial is a somewhat rare and very desirable "Canadian" 24 hour, double sunk, Montgomery Safety Numerical Minute Dial with dual time zone hands. Refer to Figure 3.
---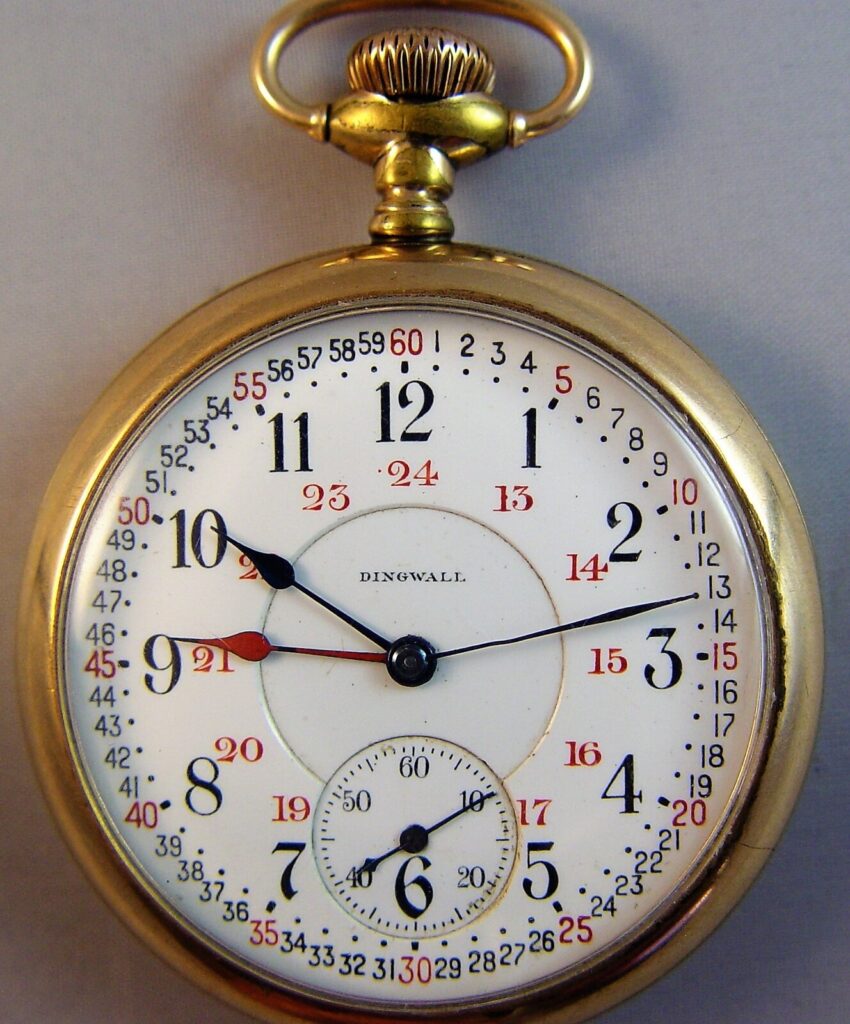 ---
Dual time zone hands were supplied by the various watch manufacturers, but were usually installed by local railroad watch inspectors (such as D. R. Dingwall) on the watches of railroad engine crews and train crews whose runs took them into two different time zones. The black hour hand indicated the hour in the primary time zone and the red hour hand indicated the time in the adjacent time zone.
Donald Ross Dingwall (refer to Figure 4) was born in Scotland and moved to Canada as a young man. In 1881 he came to Winnipeg and established his jewelry business, D.R. Dingwall Ltd, at 62 Albert St, Winnipeg, Manitoba, Canada. His business activities included: jeweler, silversmith, diamond merchant, and retailer of clocks and watches. He died in 1913 with the business being carried on by his family including his son Donald Waverly Dingwall.
D. R. Dingwall also held positions as:
Director of the Pacific Coast Fire Insurance Company
Director of the National Finance Company
Director of Capital Loan Company
Director of Amalgamated Press of Canada
Vice-President of the Ontario and Manitoba Land Company
Vice-President of the Canadian Finance Company as well as
Watch Inspector for the Canadian & Pacific Railroad.
---