Illinois Watch Company Bunn Special Dial: "Arrows In" vs. "Arrows Out"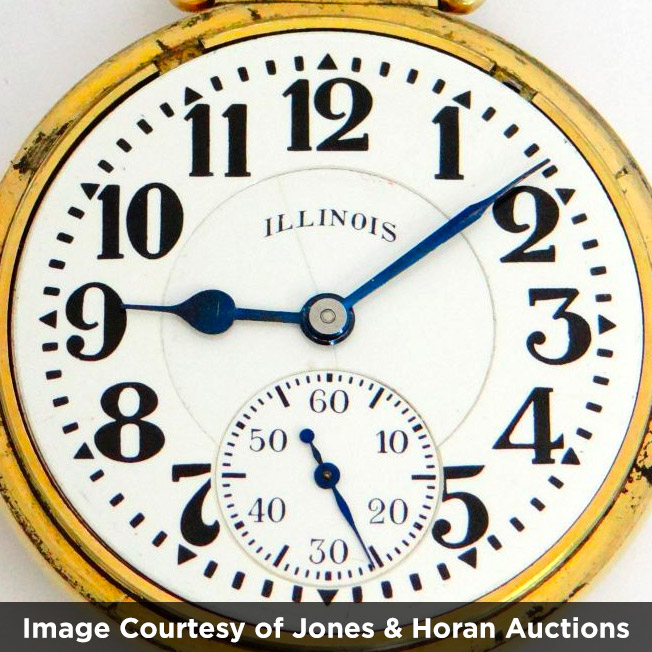 ---
In December 1927, Hamilton Watch Company agreed to purchase the Illinois Watch Company factory in Springfield, Illinois. On January 1, 1928, Hamilton took control of the company while production continued under the familiar Illinois brand.
The new ownership leveraged the popularity of the Bunn Special watch in the railroad industry, eventually improving it with innovations like the Elinvar hairspring. The ownership transition also marks a change from the iconic "arrows in" Bunn Special dial to the "arrows out" dial, exhibited by the arrows at the five-minute intervals being reversed outward.
While this style change is typically associated with the Hamilton ownership transition, evidence supports that the update was already in progress before the sale of the factory. The dial circular published by the Illinois Watch Company in May 1927 illustrates the No. 113 dial, a silvered metal version of the familiar No. 114, with the "arrows out" style while the enamel No. 114 still exhibits the traditional "arrows in" style. This evidence shows that the style change coincided with the ownership shift rather than as a direct result.
Since an original dial is critical to the collectability of Bunn Special watches, collectors generally consider the "arrows in" dial appropriate before 1928 and "arrows out" during the Hamilton era. However, some overlap is expected during the transitional period.