Ezra C. Fitch's Red "Annular Acorn" Dial Design, Patented March 26, 1901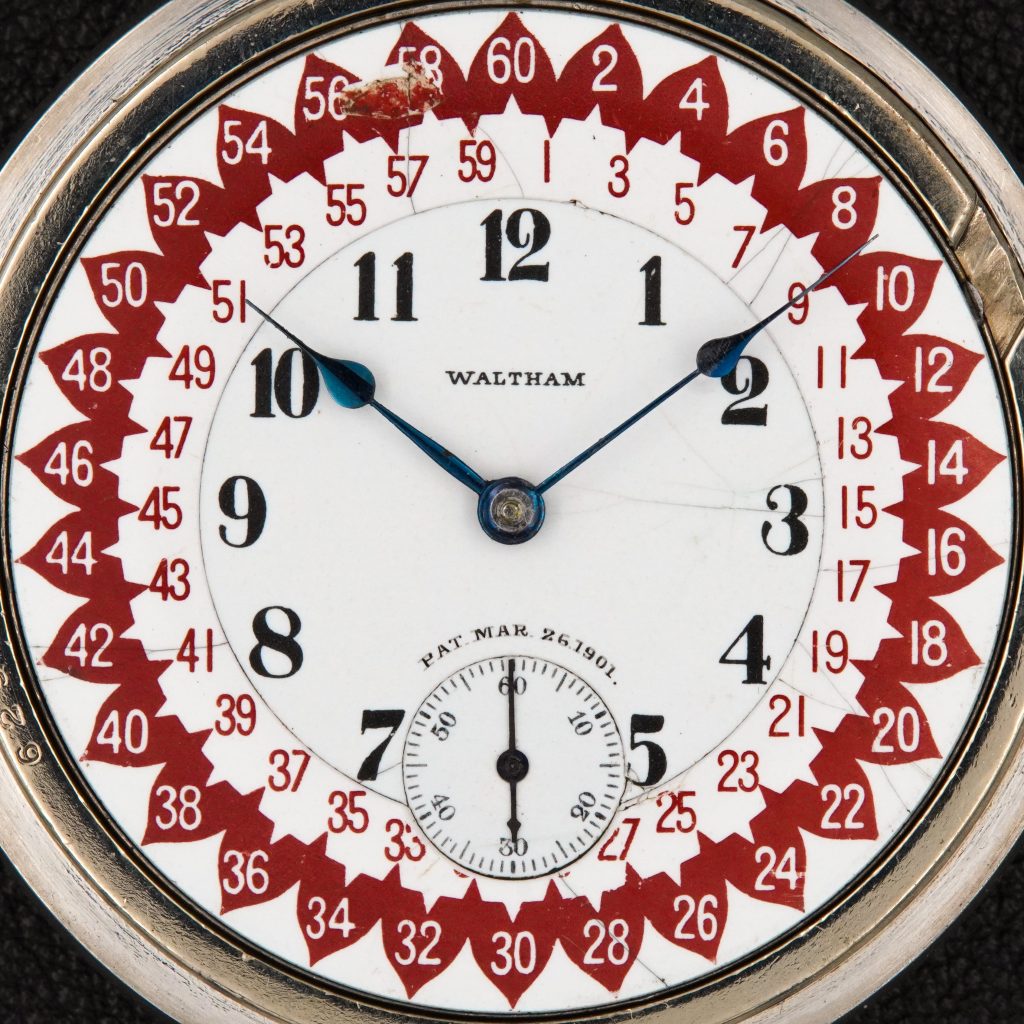 ---
While the staggered marginal minute dial attributed to Ezra C. Fitch was never granted a design patent, one variant created around the same time was novel enough to qualify. 
This design is characterized by unique "acorn-shaped" forms radiating around the perimeter of the dial, contrasting against the stark white of the enamel in either red or black. The marginal minutes are staggered in an arrangement similar to Fitch's other design, but the patent does not call attention to the minute figures. 
Fitch describes his design in the patent application:
"The leading and essential feature of this design is an outer portion C, arranged in a generally annular form, included between the periphery A of the dial and the inner circular line B, concentric with said periphery and at a suitable distance therefrom. The portion C of the design is formed of a number of small ornamental forms or figures d d, contiguous to each other, each of which resembles in outline the form of a somewhat-truncated acorn or a shield. From each point of junction between the acorn-shaped or shield-shaped figures d d a small pyramidal point e projects inward toward the circular line B. The acorn-shaped or shield-shaped figures d d are arranged with their broad potions nearest to the circular line B and with their apexes pointed toward and substantially touching the periphery A of the dial. In the inner side of the acorn-shaped or shield-shaped figures d d, the same being the side thereof which is nearest to the inner circular line B, is a recess f f, the said recesses being usually placed symmetrically in the middle of the said inner side of boundary-line of the said acorn-shaped or shield-shaped figures, which are usually thirty in number."Ezra C. Fitch, Patent Application Filed February 26, 1901
---
These rare dials were produced both before and after the patent was granted, with hand-painted markings indicating "Pat. Appl'd For" or "Pat. Mar. 26, 1901," and have been observed fitted on Waltham's 18-Size Model 1892 movements.
---