c.1887 Hampden Watch Company 18-Size Gilt Movement with 7 Jewels, Grade ??? [Part 1]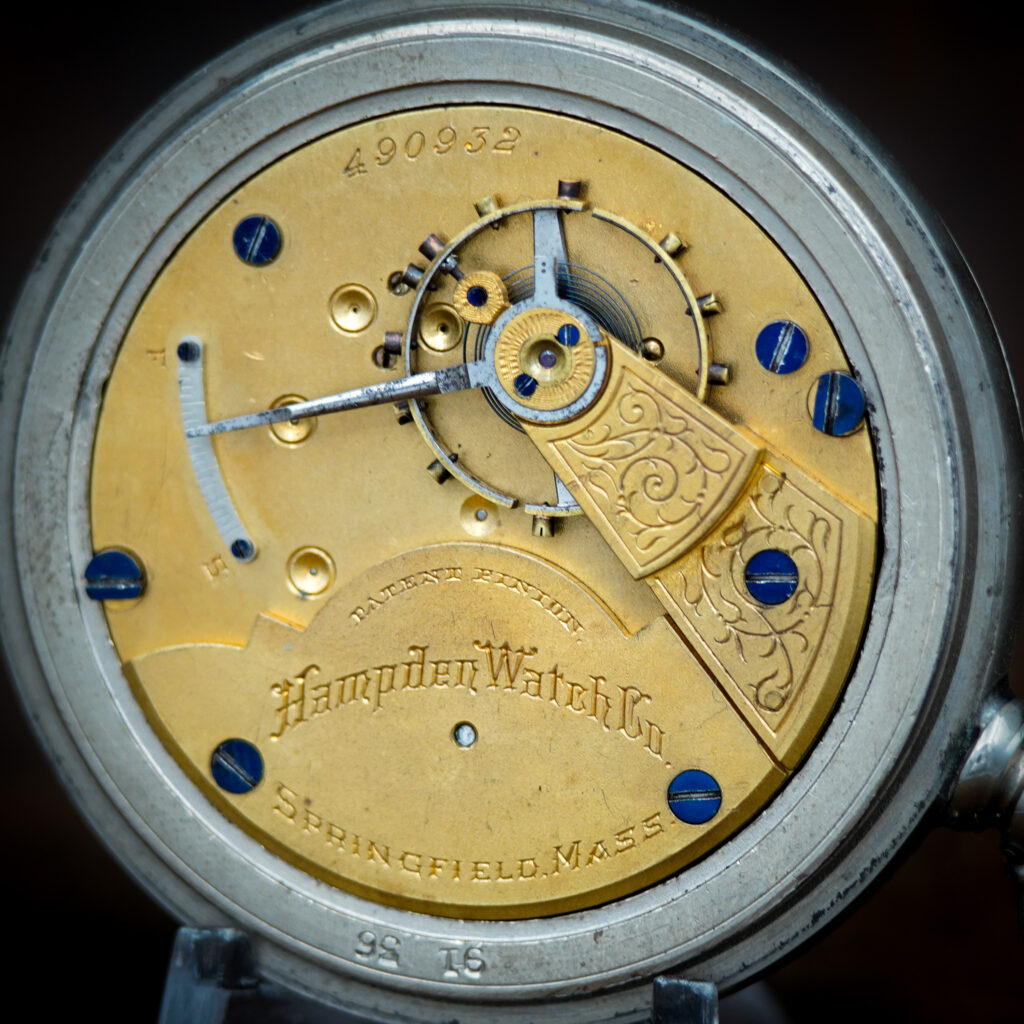 ---
I posted this watch this week for two reasons:
1. We frequently discuss watches at the upper end of the market with more significant collector interest, intriguing features, and low production. While that is fun, most people did not carry high-end watches with premium jewel counts and precision adjustments. Rather, lower-quality mass-produced watches were popular sellers in the market – like the 7-Jewel Hampden in today's post.
2. This watch showcases the conundrum we sometimes face when attempting to classify certain watches for research purposes. Two primary grade classifications can be argued for this watch: "Springfield" and "No. 21."
---
This watch was produced shortly after the 18-Size open-face (Model 3) movements were introduced by the Hampden Watch Company. The only known 7-Jewel movement sold by the company during this era was the "Springfield," a very inexpensive low-grade gilded movement often identified by the simple "Springfield, Mass." signing and the engraved regulator index on the top plate. While no known grade descriptions have been found for an open-face "Springfield" movement, it would make sense that the company would expand the product line by including a 7-Jewel option when the Model 3 was introduced. However, these 7-Jewel movements were signed "Hampden Watch Co. – Springfield, Mass. – Patent Pinion" and feature a mounted index plate for the regulator, distinguishing it from the earlier Model 1 and Model 2 "Springfield" movements.
Because of these differences, this movement is frequently classified as Grade No. 21, which is more consistent with the characteristics of this movement. However, descriptions for the No. 21 movement did not begin appearing in catalogs until c.1895, several years after these 7-Jewel movements were first introduced. So, it would make sense to classify these movements as Grade No. 21 after c.1895, but unless this grade was in production well before it began to appear in catalogs, classifying a movement as No. 21 with these traits from c.1887 does not make sense.
Another possibility we should consider is that the factory assigned this movement a different grade number that has yet to be discovered in any grade lists or catalog descriptions. Production of this movement occurred around the time of the Dueber and Canton transition, so it is feasible to assume that the company may not have distributed price lists as frequently during this time. We certainly see sparse references in price lists during the early 1890s.
This classification problem perfectly demonstrates why continued research is critical to improving our understanding of these watch factories and production. On that note, this post will have a "Part 2."