Private Label Trade Names on American Pocket Watches: The Lincoln Watch & Jewelry Company: Part 2: The Spiegel Connection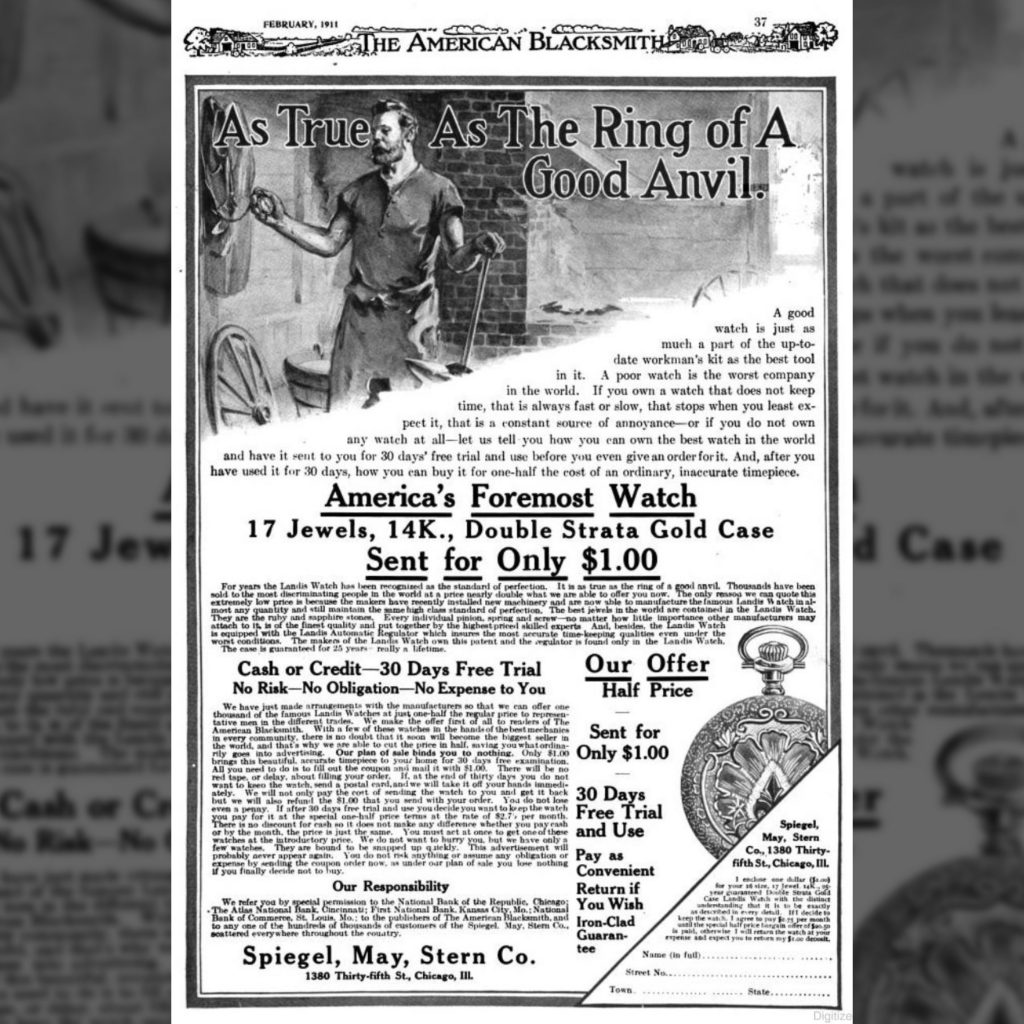 ---
The Spiegel company was one of the most successful mail-order companies in the early 1900s, distributing catalogs to compete with businesses like Sears, Roebuck & Co. and Montgomery Ward. Founded in 1865 by Joseph Spiegel, the original company started as a small retail store in downtown Chicago. The family business was rebuilt after the Great Chicago Fire of 1871 and restructured after the economic recession in 1893.
In 1906, Spiegel distributed its first mail-order catalog using the slogan "We Trust the People," and was the first company to offer purchases on credit through the mail. This mail-order department was headed by Joseph's son, Arthur Spiegel. Within a year, the brilliant credit system had yielded sales of almost one million dollars.
With the success of the mail-order department, Spiegel, May, Stern Co. was organized as a spin-off to specialize in the mail-order business. In 1909, this company introduced the "teddy bear" to the world, available for purchase from its diverse catalog.
When the Landis Watch Company was incorporated in Chicago by Houston E. Landis in 1909, Arthur Spiegel was named the company's secretary. This move was likely designed to create a strategic partnership to offer a line of watches. Sears, Roebuck & Co. had successfully sold private label watches manufactured by the Illinois Watch Company, and Arthur Spiegel aimed to provide similar products.
At the time, Houston E. Landis worked as an accountant at Sears, Roebuck & Co. and brought a unique experience to the ambitious company. Recognizing this potential, Spiegel hired Landis to become the office manager and created a partnership with the new Landis Watch Company.
As exhibited in a 1911 magazine advertisement, Spiegel, May, Stern Co. offered the private label watches commissioned by the Landis Watch Company.