Private Label Trade Names on American Pocket Watches: "Burlington Watch Co." Part 27: Fighting the Trust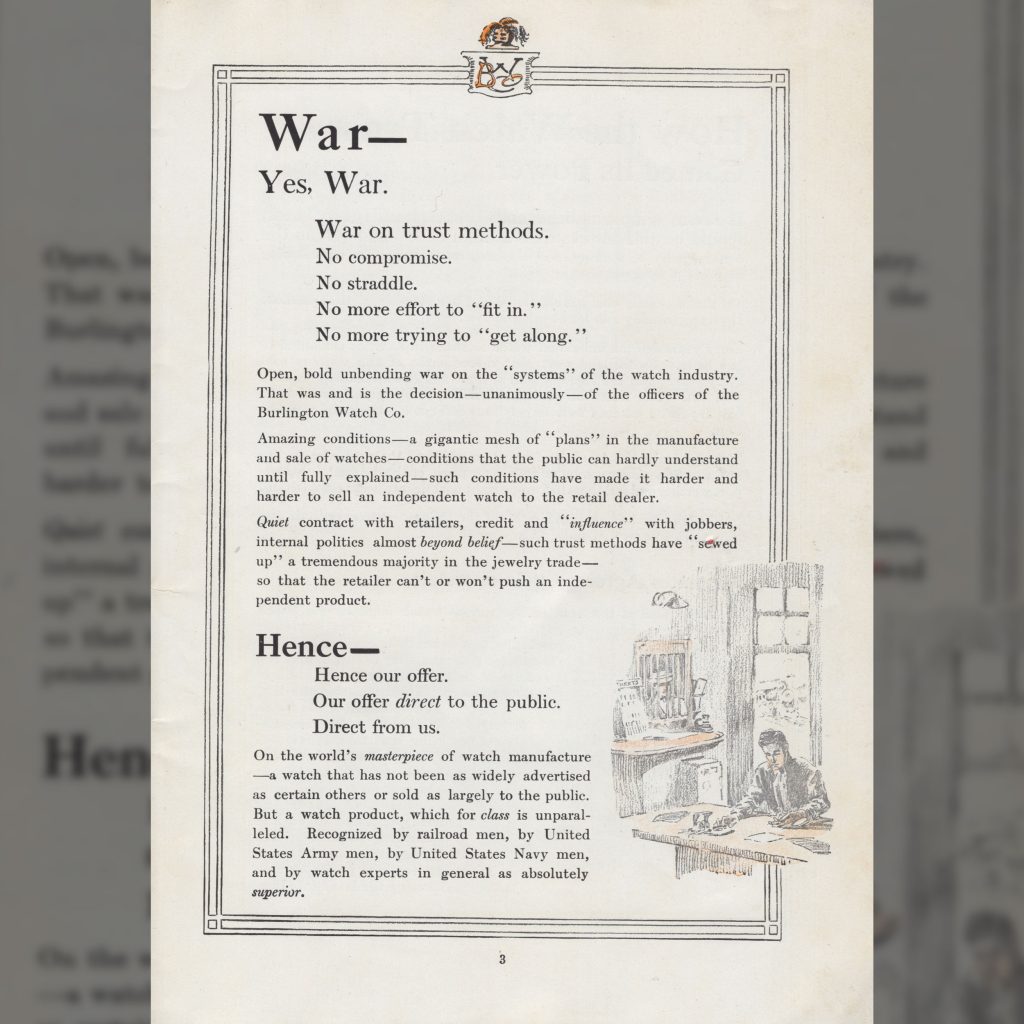 ---
Starting with the first advertisements promoting the "Burlington Special" in 1908, the Burlington Watch Company lauded their stance against the "watch trust," prominently including the headline, "Fighting the Trust."
During this era, several large watch companies agreed on a system to fix prices for movements and cases to ensure greater profits. This "watch trust," led by Elgin, Waltham, and Keystone, attracted scrutiny from companies that were not members of the trust. Not only was the scheme unfair to consumers, but the watch trust was so powerful that it was able to cripple retailers and wholesalers that did not comply with specific terms.
The Illinois Watch Company, manufacturer of the "Burlington Special," was one of the companies that fought against the trust. So, it was natural for the Burlington Watch Company to leverage this position in promotional materials, wearing it as a badge of honor.
The c.1911 Burlington Watch Company catalog presented this clash as a "war on trust methods" and described the watch trust scheme.
"Amazing conditions – a gigantic mesh of "plans" in the manufacture and sale of watches – conditions that the public can hardly understand until fully explained – such conditions have made it harder and harder to sell an independent watch to the retail dealer.

Quiet contract with retailers, credit and "influence" with jobbers, internal politics almost beyond belief – such trust methods have "sewed up" a tremendous majority in the jewelry trade – so that the retailer can't or won't push an independent product."c.1911 Burlington Watch Company Catalog
This stance aligned perfectly with public support of "trust busting" and quickly garnered favor amongst potential customers. The Burlington Watch Company was presented as the hero fighting the watch trust. Who would not want to support the hero?