Early History of the New York Watch Company: Part 4 – The Fire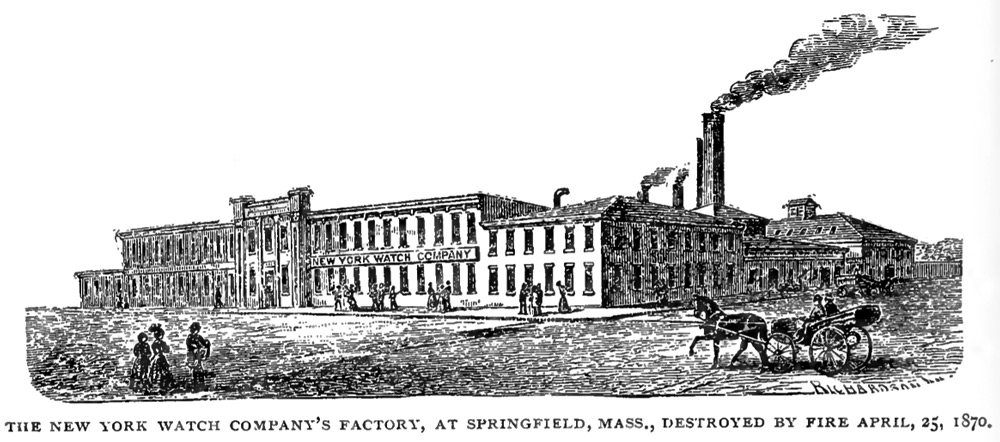 ---
In the Spring of 1870, the future of the New York Watch Company looked bright and promising. Under new leadership, the company had restructured and was eagerly working on a new full-plate movement to further enhance the product line.
However, only a day after the Springfield Republican published a favorable article lauding the successes of the restructured company, a tragedy nearly destroyed the company's optimistic ambitions.
On April 27, 1870, around 3:00 in the afternoon, a fire broke out in the dial department in the southwest corner of the factory. While the fire initially appeared to be a manageable mishap, a faulty fire hose and untimely winds caused the fire to be carried throughout the rest of the factory.
Fortunately, since the fire occurred in the afternoon on a workday, the company employees were able to assist in the response efforts. Newly appointed superintendent J.C. Perry quickly organized employees and helpful citizens to move the machinery and inventory out of the factory to prevent the company's most valuable assets from being destroyed.
The Springfield Republican reported:
"Shortly before 4 o'clock Superintendent Perry called the hands to assist in removing the machinery and stock in the yet unreached northern part of the main building, and men and women responded heartily and worked with such good will that all the finished watches, the majority of the tools, much of the small machinery, some fixtures, cases, desks, and the like, and the sash in the north-east wing, were saved, and afterward brought down town and stored." Springfield Republican, April 28, 1870
---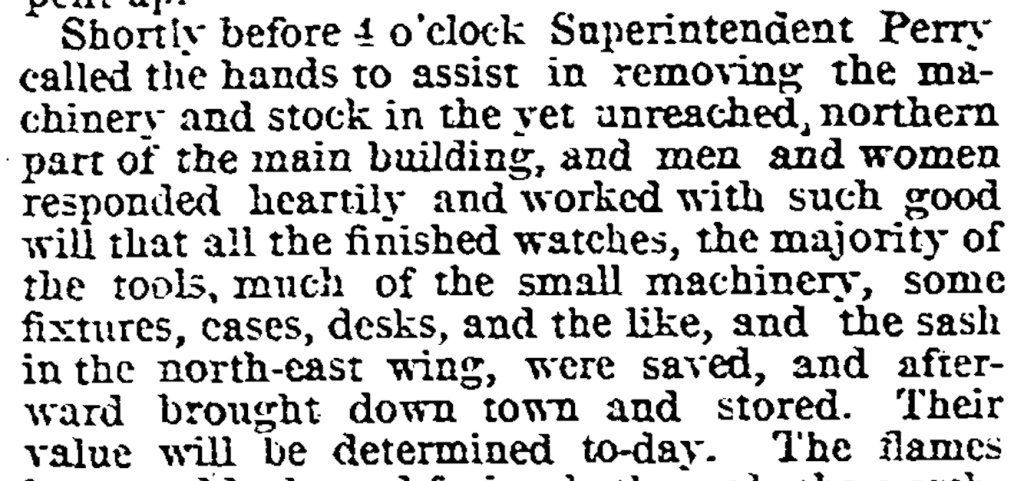 ---
Following the fire, the primary factory building was deemed a complete loss.
Despite this, the company was able to proceed with production after a very short delay, mainly as a result of the quick action by Mr. Perry to save the factory machinery.
---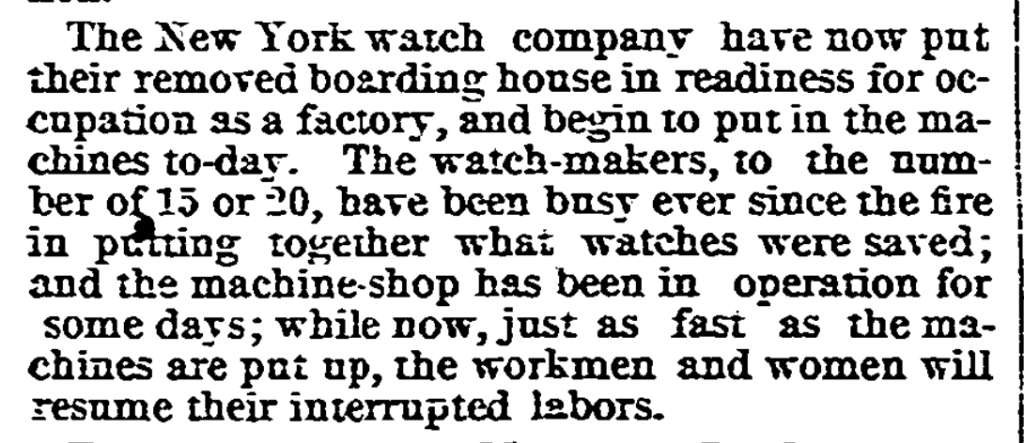 ---
A boarding house owned by the company was moved to the property, and by the end of June 1870, the company was back to work manufacturing watch movements.
Full article about the fire published in the April 28, 1870 issue of the Springfield Republican: