Private Label Trade Names on American Pocket Watches: The Non-Magnetic Watch Company: Part 14: Alternative Anti-Magnetism Devices: Giles Anti-Magnetic Shield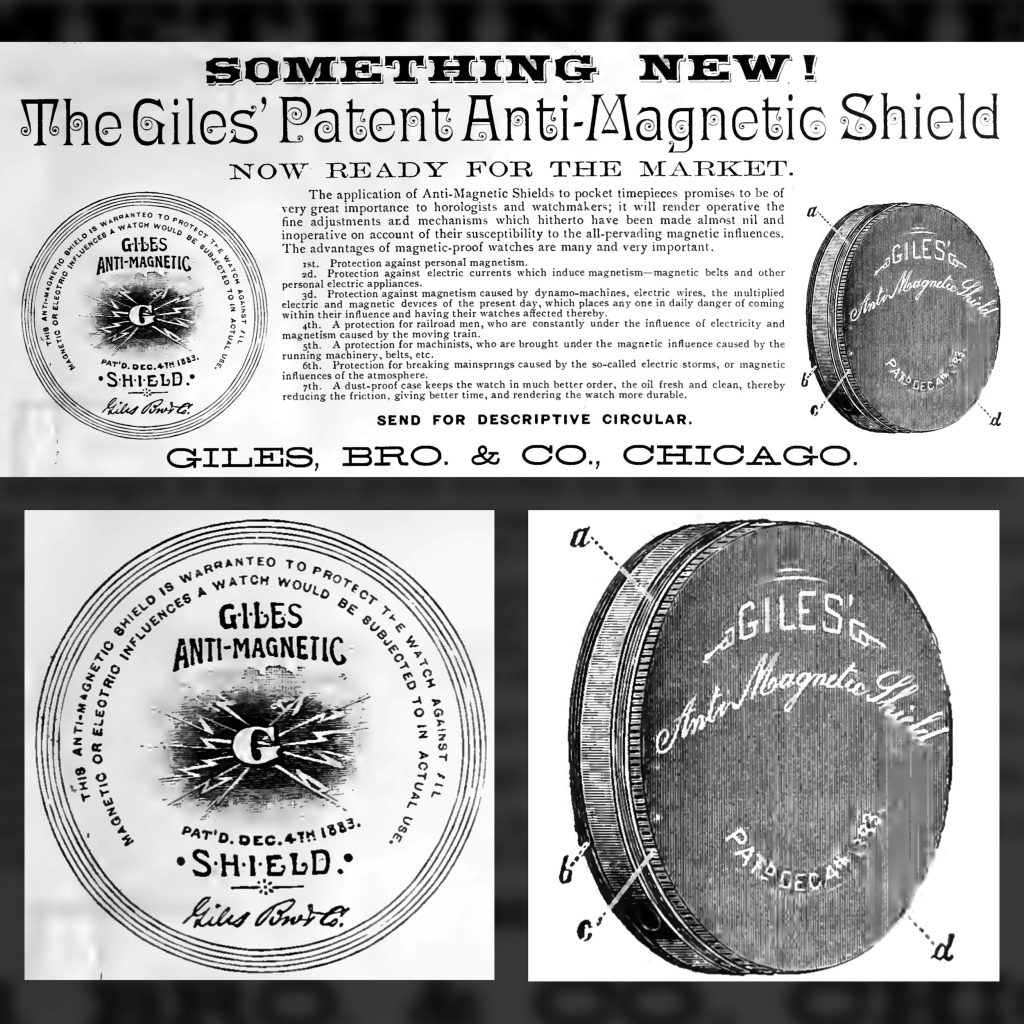 ---
As electricity was being adopted across the globe in the 1880s, the watch industry was met with the challenge of magnetism from electromagnetic fields.
When the delicate hairspring, balance, and steel parts of the watch movement were magnetized, the watch would operate erratically. This result was immensely problematic on railroads, where precise timekeeping was critical.
While Charles-Auguste Paillard was developing palladium alloys for watches that were non-magnetic, other companies scrambled to create devices to protect watches from the influences of magnetism.
In 1883, Giles, Bro. & Co. developed an anti-magnetic shield to protect against magnetism. A patent was granted to Charles K. Giles for this device on December 4, 1883 (U.S. Patent #289642).
The concept of Giles' anti-magnetic shield was similar to that of a Faraday Cage, with the magnetic field being absorbed and redirected around the movement. A shield composed of a highly-magnetic material surrounded the movement, and the company even suggested placing a thin layer of metal under the dial to encapsulate the movement fully.
When Giles, Bro. & Co.'s anti-magnetic shield was introduced in 1884, the device became a tremendous success. A circular was distributed by the company, describing the anti-magnetic shield:
"This Anti-Magnetic Shield is warranted to protect a watch from any magnetic influence it would be subjected to in actual use, and is made on purely scientific principles, and only accomplished after many tedious and expensive experiments. It is composed of pure gold and copper, and decarbonized steel of the finest quality, so arranged as to obtain the results required. The decarbonized steel is the greatest absorbent of the magnetic current known to science. Copper is one of the best conductors, and gold offers scarcely any resistance and is used as a diffusing agent, hence the result of absorbing, conducting and diffusing the magnetic influence before it reaches the watch movement."Republished in The Jewelers' Circular and Horological Review, 1884
An article was published in the August 1884 issue of The Jewelers' Circular and Horological Review criticizing the representation of copper and gold as active agents in the effectiveness of the anti-magnetic shield, calling it "blank nonsense." However, the writer continued by praising the overall effectiveness of the case despite the superfluous marketing claims.